Recently, I've been into making my own instruments!  It's great fun and they WORK!  Here's my first-ever cigar box guitar.  I call it the 'Sink Drain Fuente' -  Arturo Fuente box, made in The Dominican Republic.

( No, I didn't smoke 'em, but I do collect the boxes!) ....Drain stoppers for sound holes...steel bolts for the bridge & nut.  I even fretted this one; I took the frets out of a toy guitar I found at Goodwill..The fret dots are upholstery tacks.... Stay tuned!  I should have videos & sound clips up soon.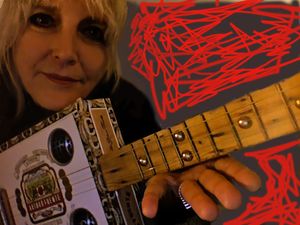 'Sink Drain Fuente'
___________________________________________________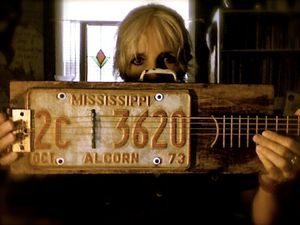 'The Mississippi Special'

This is my latest  Cigar Box Guitar ( this one's made out of an antique tool box I found at a shop in Nashville) ...I call this the 'Mississippi Special'...it's a resonator style guitar, great for playing slide. It has a 'biscuit ' bridge mounted on a bread pan inside the box...
I found the old license plate in Savannah, GA. A HUGE thank you to my buddy Bill Shaver for his help on this, and on most all of my projects!  Bill's workshop in Smyrna, TN  has been my hang out ever since I started building these crazy guitars...Thanks too to my fellow artist & CBG friend David Fultz for helping out with routing & all that stuff.  You guys are the best!


_______________________________________________________


La Aroma de Ukelele...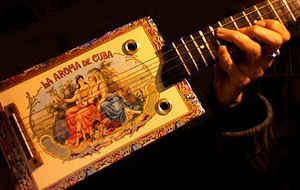 Cigar Box Uke....Made from a small size Aroma de Cuba Cigar Box, & a kid size guitar neck, which I converted from a 6 string to a 4-string .  The bridge is a bolt grooved into a piece of wood from the innards an old pump organ that had seen better days ( thanks to Sam Weedman for giving me various pump organ fragments to resurrect and add to future CBGs!) ...graumets for sound holes....Still perfecting the sound & fret action on this little guy.